Dear TUT friends,
Once again, your help is needed by Athletic Haiti and by the thousands of children we serve.
URGENT HELP NEEDED AFTER HURRICANE MATTHEW!!!!!
UPDATE:
We sent our employees to the South to assist and assess the situation, after hearing dire news on the radio about starvation and cholera taking lives so fast that the bodies are buried in mass graves.  The report we received from our own staff confirms these news.  The critical human crisis makes our own recovery efforts seem so insignificant.  For the people outside of Haiti, I would like to compare this disaster to the aftermath of the earthquake in 2010.
The 2010 earthquake, took a lot of human  lives and infrastructure damage,  but the immediate urgency in the weeks following the earthquake was spent on finding survivors.  The bleeding was contained after the big event and some after shocks, allowing international  relief agencies and governmental agencies to  get in place and start giving water and food.  Most of the damage was situated within 2 hours parameters from the capital, Port au Prince, making access easier after the earthquake.
In contrast, Hurricane Matthew's eye hit the southern tip of Haiti and moved north, with the most damaging west side sweeping like a big monster across the sSouth and Southwest,  and Northwest, the agricultural region of Haiti.
Estimated casualties of 271 deaths according to the Directorate of Civil Protection (DPC) up to 842 deaths according to international media (The Telegraph).
191 temporary shelters are housing 61,537 displaced individuals according to The Ministry of Planning and External Cooperation (Le Ministre de la Planification et de la Coopération Externe, MPCE).
Communication networks with the Grand Anse departments are partially operational since Friday morning and phone lines with Nippes department are heavily affected .
A key bridge connecting the Southern Peninsula to the rest of the country,
La Digue bridge in Petit Goave, had collapsed on Tuesday 4 October. Land access to the most affected areas remains extremely difficult.  A temporary bridge is being built to provide access to relief trucks.
Initial, though incomplete reports from the Southern Peninsula, describe more than 28,000 damaged houses.
The storm wrecked most crops and killed 350,350 animals in southern Haiti, leaving the residents without a source of food.  Our employees took food and water to their immediate families who are stuck without electricity, water or food.  They came back with incredible stories of human suffering and cholera epidemics causing bodies to be buried in mass graves.
740 shelters and 279 latrines destroyed or damaged in camps in Port-Prince,
Cholera epidemic from lack of clean water and sanitation after Hurricane Matthew is killing people in 2-3 days, resulting in mass graves.  There are no hospital or medical clinics within hours of the most affected people in the mountains.
80% of electricity network destroyed in the Southern peninsula.
PLEASE HELP US RECOVER:
ONE TIME DONATION
___________________________________________________________________________
Monthly Donations as little as $5,$10, or $20 per month can see one kid succeed by attending school, getting books, and a warm daily meal.
__________________________________________________________________________
OUR IMMEDIATE NEEDS
After assessing the damages to our programs and speaking to our local directors in the south and in Cite Soleil, we are submitting this post Hurricane Matthew damage report, with the estimate spreadsheet attached.
Here is the recap from FLADH's facilities  the situation in the South and in Cite Soleil:
Our School in the South
The school in Saint Louis De Sud was flooded.  The roof was damaged by wind.
The well is clogged with mud and the pump is not working.
Septic system clogged
The electrical is damaged
The generator is damaged
Food storage flooded- rice and beans destroyed
 Our Center in Cite Soleil
Well pump not working
Septic System clogged
Soccer fields are water logged by flood and mud
Food storage- water damaged
Health
Cases of Cholera related death rising in the south- 400 deaths so far.  Our kids and their families in the South are right in the path of the Outbreak.
No clean water
Livestock and human bodies being buried in mass graves
No food, no water
No emergency relief
Conclusion
We need to provide in order of priorities the following:
Emergency food and water,
Oral dehydration kits
Medicine
Get school back in session
Get sports program back in session
Repair wells and infrastructure
Increase security in the south
FONDATION L'ATHLETIQUE D'HAITI   FLADH

OCTOBER 16TH 2016

REPAIRS NEEDED
DESCRIPTION
QUANTITY
UNIT COST- US dollars
TOTAL
WELL
Repair pump-clean debris
1
$4,500.00
$4,500.00
PLUMBING
Replace broken pipes
10 meters
$35.00 per linear meter
$350.00
ROOF
Replace metal and beams
20 squares meter
$165 per square meter
$3,300.00
ELECTRICAL
Repair electrical
1
$750.00
$750.00
MASONRY
FIX HURICANE DAMAGE
1
$4,850.00
$4,850.00
GENERATOR
REPLACE
1
$4,900.00
$4,900.00
CLEAN UP
CLEAN UP AND HAUL AWAY HURRICANE DEBRIS
120 CUBIC METER
$10 PER CUBIC METER
$1,200.00
SUBTOTAL
$19,850.00
FOOD- EIGHT  WEEKS EMERGENCY
RICE
RESTOCK FLOOD DAMAGED FOOD SUPPLIES
400-25 kl BAGS
$16 PER BAG
$6,400.00
BEANS
RESTOCK FLOOD DAMAGED FOOD SUPPLIES
400 X 25 kl bag
$18.00 PER BAG
$7,200.00
WATER/SANITATION
TEMPORARY TRUCK LOADS UNTIL WELL IS FIXED
10TRUCK LOADES FOR 4 WEEKS
$180/ TRUCK
$1,800.00
SUBTOTAL
$15,400.00
HEALTH-CHOLERA PREVENTION
REVERSE OSMOSIS SYSTEM
Our water is now too salty to use with filtration
1
$12,000.00
$12,000.00
CHLORINE TABLETS
Drinking water purification
500
$200
$200.00
CHOLERA ORS KITS
ORAL REHYDRATION SALTS
2000
2
$4,000.00
MEDICAL SUPPLIES
ANTIOBITICS, ANTI NAUSEA
2000 PACKS
$2.00
$4,000.00
SUBTOTAL
$20,200.00
TOTAL NEEDED
$55,450.00
ONE TIME DONATION
___________________________________________________________________________________________________________
Monthly Donations as little as $5,$10, or $20 per month can see one kid succeed by attending school, getting books, and a warm daily meal.
_____________________________________________________________________________________________________________
Dear Friends,
It is with a heavy heart that I bring you this damage report from the aftermath of Hurricane Matthew.  This is the second day of our damage assessment in our main center, Cite Soleil.  Our sport and soccer fields are all under mud and trash from the flood run offs of Hurricane Matthew.   We still have not heard from everyone, and we hope that they are safe.   We had some wind damage to our buildings.  Our food storage in Cite Soleil was flooded.  We had bags of rice and beans stored for the next 90 days and they are gone.   Since we feed 2000 kids per day, the situation is dire.  Our  water pump and well is damaged from flowing debris and mud.  That pump served the population around our school.  Our recycling center's compost is saturated and that was also a source of income for our center.   There is no clean water, and cholera cases are rising.
In the south, we understand that our school in Saint Louis Du Sud has been flooded.  Communication with our staff is very sporadic, due to lack of power and cell coverage.  We are still waiting on damage reports from the South.  We are so thankful that we have had no human casualties reported from our circle of children and employees, and will keep praying that it will stay that way.
Our Moringa trees lost their leaves, which we were counting on for a money crop for dietary supplements and to add protein to our kids' meals.
Generally,  we are told by the families of our children that their meager belongings are damaged in the flood and mud.  The farmers among them lost their crops and livestock, their meager defenses against famine.  We are begging for your donations to help Athletic of Haiti come through for our communities and our kids and staff.
ONE TIME DONATION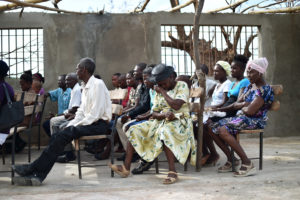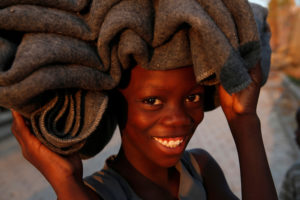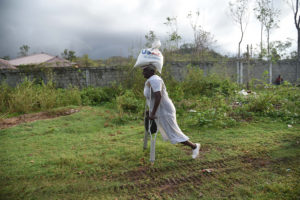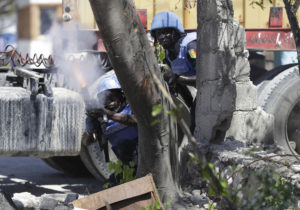 Monthly Donations as little as $5,$10, or $20 per month can see one kid succeed by attending school, getting books, and a warm daily meal.
FONDATION ATHLETIC OF HAITI BEFORE HURRICANE MATTHEW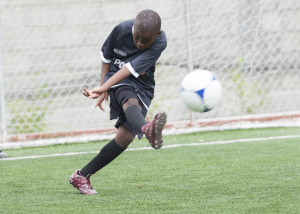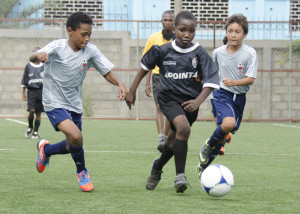 Free warm meals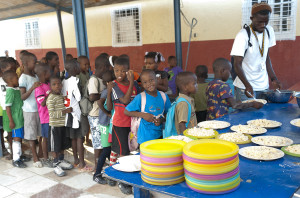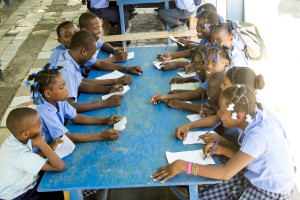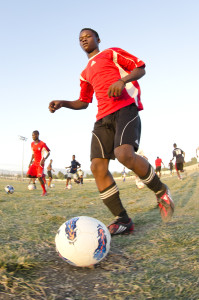 OUR SOCCER FIELDS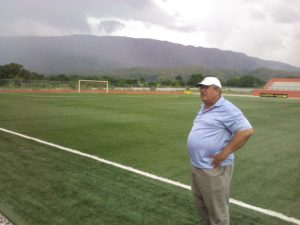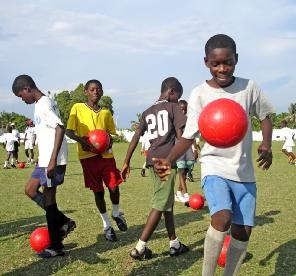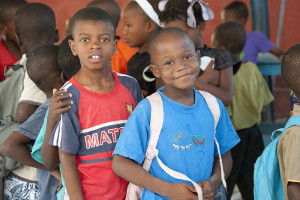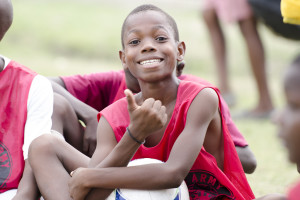 This school was built with the support of Kellogg Foundation and Digicel Foundation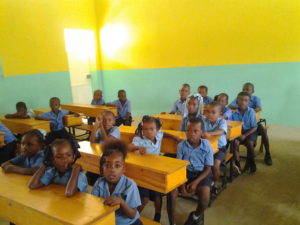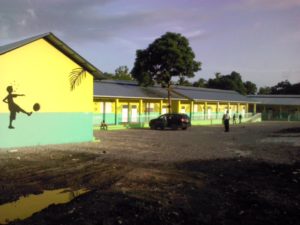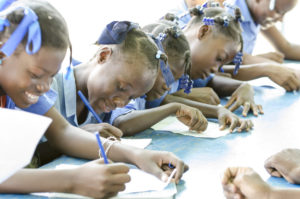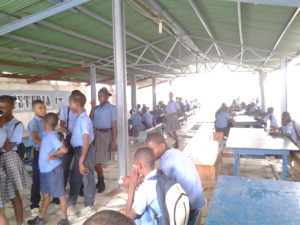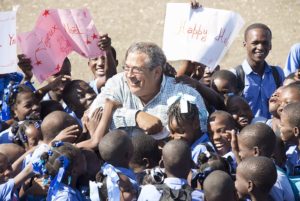 AFTER HURRICANE MATTHEW: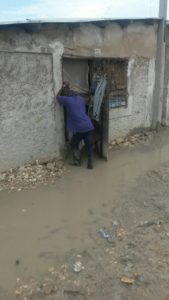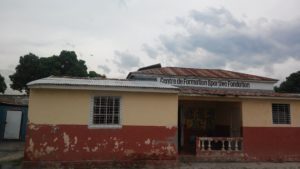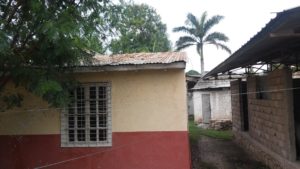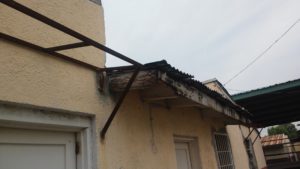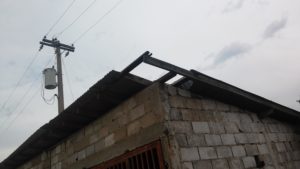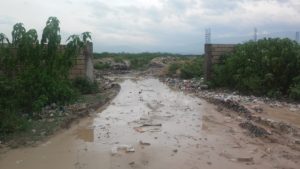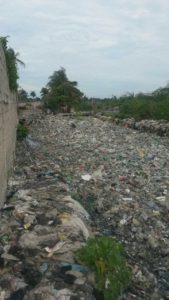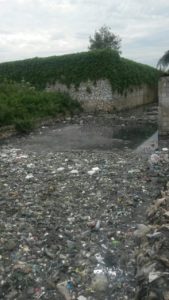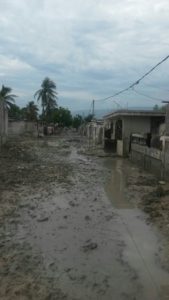 DAMAGES IN THE SOUTH
(Photos below are courtesy of Getty Images and Reuters)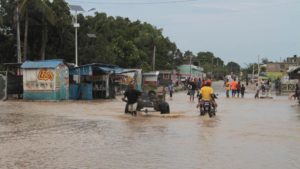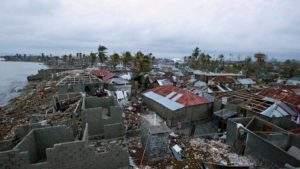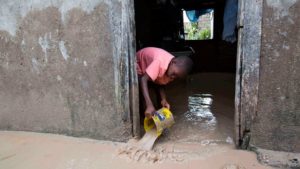 WE NEED YOUR HELP
We could not have supported over 20,000 kids over the last twenty years without support from generous spirit like you.  All your contribution flows to food, schooling, books and sports equipment for our kids.  We invite you to come visit our kids, or start a pen pal session with some of them.  All we ask is for small, but consistent donations of $5, $10, $25, or $50 per month. Parents have encouraged their kids to support our program as a way to teach them about philanthropy.  Or if you prefer a one time donation, we would be so grateful.
WE ARE A LEGITIMATE HAITIAN FOUNDATION.  
In the past 20 years, Robert Duval has worked tirelessly with loyal donors to serve over 20,000 kids by  providing  FREE:  sports programs, schooling, school books and uniforms, shoes, daily warm meals, education, travel for international sport competition and vocational training.  Meet our kids on Facebook
If you google "Robert Duval", "Athletique D'Haiti", "Athletic Haiti", "Boby Duval CNN Hero", you will see hundreds of references, all validating the work that Boby Duval has done to support the children in the poorest slums of Haiti for the past 20 years.  Check out our videos.
Boby Duval has received multiple awards and recognition from US Presidents, Head of States, and large NGOs and Foundations.  We are recognized by the Haitian government as an essential  non profit charity for children in Haiti.
If you need references, we can provide personal  testimonials from our partners in the US:
Operations USA
http://www.opusa.org/
Habitat For Humanity International  
http://www.habitat.org/
Kellogg Foundation    
https://www.wkkf.org/
Inter-American Development Bank
International Red Cross
American Red Cross
Digicel Foundation
United Nations Development Programme
Unicef
We can also provide you with a tax exemption letter from our partners, Operations USA, a US 501(c)k IRS non profit. For this option, please contact us prior  to donating, and we will get you in contact with Operations USA for the donation process for this option.
DONATE KNOWING THAT YOUR MONEY WILL GO DIRECTLY TO BUY FOOD, WATER, BOOKS AND PROVIDE FREE, FREE, FREE SERVICES TO CHILDREN WHO HAVE NOTHING.  THERE IS NO ADMINISTRATIVE COSTS TAKEN OUT OF YOUR DONATIONS.  
HURRICANE MATTHEW RECOVERY- Your one time donation will help fix our flood ravaged schools and soccer fields, fix the our damaged well and pump to provide fresh water the kids and community and prevent cholera; replenish our flooded food for the kids and fix the flooded soccer fields.  Athletic will also help out the families of our students and employees with a modest sum to replace their clothing and basic hygiene items.
ONE TIME DONATION
Monthly Donations as little as $5,$10, or $20 per month can see one kid succeed by attending school, getting books, and a warm daily meal.