Meet Robert Duval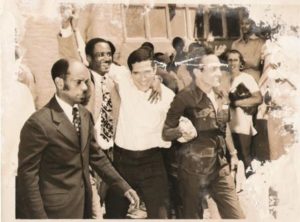 Robert Duval, "Boby" is a Haitian who, from childhood,
grew up knowing that one day he was expected to run  the family business, Duval Industries.
 However, history had other plans.
Political Prisoner:
Duval graduated from the Valley Forge Academy in Wayne, Pennsylvania, and then received his degree in Business Administration from Concordia University in Canada in 1975. Upon returning to Haiti after graduation, Duval served as President of one of the family manufacturing businesses, Duval Tire. At the time Duval was shocked at the human rights violations committed by the Duvalier regime and spoke out against it. On April 20th, 1975, Duval was grabbed from his factory, and thrown in jail in Fort Dimanche for 17 months. He was never told why he was imprisoned, and given a death sentence in the most dreaded jail in Haiti, Fort Dimanche, where prisoners do not come out alive. It was only due to the intervention of Amnesty International and President Jimmy Carter that Robert Duval was finally freed on September 21st 1977as he was weeks from death due to starvation. After his release, Duval started a human rights organization called the League of Political Prisoners, whose goals was to promote human rights values in Haiti and provide legal aid for victims who were arbitrarily arrested without due process. His organization freed 1500 prisoners during a span of 4 years. In 1988, Duval was asked to speak about human rights at the United Nations Human Rights Assembly in Switzerland. In 1990, Duval became the Secretary General for GARR, a nonprofit group that specialized in helping Haitian refugees who were kicked out from the Dominican Republic get reintegrated and housed in Haiti. From 1991 to 1992, Duval, sponsored by Oxfam America, conducted a two year tour throughout the US and all of Europe speaking as an advocate on human rights. From 1992 to 1996, Duval became the founder and chief editor of Haiti Info, a news agency, whose objective was to give the truth about the human rights violations in Haiti. In 2011, Duval formally filed charges against Jean Claude Duvalier for human rights violations, leading a group of victims who wanted to see Duvalier answer for his crimes in court. In 2013, the group was rewarded with being able to see Duvalier having to make an appearance in court and answer for his crimes against humanity.  Duvalier died during the trial of a heart attack. For this act of bravery and courage, Duval was awarded the Champion of Justice Award by the  Center for Justice and Accountability, a non profit legal advocacy group based  in the USA.
Sport as a healing and helping tool: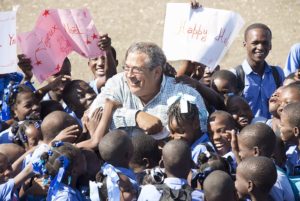 An avid soccer player, Duval led Concordia University to a championship win for Canada in 1973. He was adept in basketball, and track and field. However, his time in jail had ended his dreams of playing the sports he loved at a competitive level. Duval still used his loved of sport to propel himself forward from tragedy. From 1982 to 1985, Duval was president of the Violette Athletique Club, a first division team and the oldest team in Haiti. During those years, Violette was undefeated, won the national championship, and won the CONCACAF, the champion of championships for the Caribbean. It was this passion for sport that Duval credits for his survival of the toughest years in his life. He had played baseball, track, basketball and soccer throughout his life.
After his own ordeals, Duval saw that sport was a way to transform misery into victory. In 1995 Duval formed FLADH to provide sport and education free to the poorest youth in Cite Soleil. Now FLADH has five nonprofit locations throughout Haiti and serves 2000 children using the medium of sport and soccer to transform their lives. In 2013, Duval was nominated by the Haitian Soccer Federation as Chairman of youth development for Haiti, a nomination which was endorsed by FIFA.
Duval is persistent in his fight to bring hope, education and sport to the at risk youth in the slums of Haiti. It is to this work that Duval has dedicated the past 18 years of his life. FLADH has served over 10,000 at risk boys and girls from 6 to 19 years of age by providing access to free schools, free sport development program, meals and career mentoring. The main facility is located in Cite Soleil, one of the most crime ridden and poorest slums in Haiti. His mission is to "Save and Serve" the 2000 plus children in FLADH. In 2007, Duval was recognized as one of the first CNN Hero. In 2011, Duval was invited to join the Clinton Global Initiative where he was officially thanked by President Clinton for his social work with the youth in Haiti. Duval's biggest dream  is building a 10,000 seats sports stadium in Cite Soleil, which is designed by the award winning architect, Carlos Zapata. The stadium will revitalize a red zone which was destroyed by poverty and the earthquake, by creating cultural and employment opportunities with soccer as the major attraction.  In 2016, Duval started a innovative soccer league, Athletic of Haiti League, whose mission is to train the talented youth of Haiti for international competition.  Athletic of Haiti is a recognized FIFA youth soccer academy.
Awards and Recognition:
CNN Hero- see video on our video page
Champion of Justice – see video on our video page
Eugene Debs Social Works Award
Paul Davis Fellow- Rotary Club
William Jefferson Clinton Goodwill Award
Ted Talks Coconut Grove- see video on our video page